Geographies of resisting food insecurity by contemporary urban Africans
30 November 2016 @ African Soil Seminar
Since two decades the African continent has been undergoing the fastest urbanisation worldwide. The 4,5% annual rate is projected to continue until 2025 and by 2035 more than half its population will be urban. These demographic realities raise questions about compatibility of developmental frameworks attempting to tackle food insecurity questions through a focus on production. High levels of urban food insecurity are a result of household poverty, unemployment, and inaccessibility of food.
This Walking Debate in Nairobi visited the informal settlement of Mathare and the Karura Forest as contested sites and explored food and nutrition insecurity from the urban and peri-urban perspectives. Participants were a rich group of Kenyan and international, Nairobi-based or -focused farming activists, policy-forgers and diverse scholars. They exchanged observations and opinions on alternative approaches to overcoming shortfalls of the productionist and state-led paradigms. They walked, watched, and conversed with on-ground community and policy mobilisers about their roles, and those of scholars and established civil society institutions in addressing more systemic issues of food insecurity in precarious areas.
Two scholarly commentaries by invited external rapporteurs summarise the walk and some of the discussions that took place (click on the tiles below to download). They reflect on some of the main questions and problematics participants in this walking debate were set to address.
Punam Khosla: NAIROBI. securitized. insecure.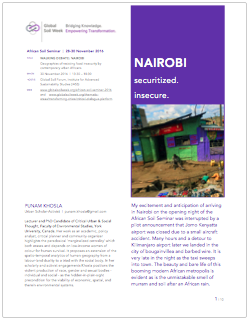 Mary Njenga and Ruth Mendum: Resisting food insecurity by poor urban dwellers, and ecosystems services from an urban forest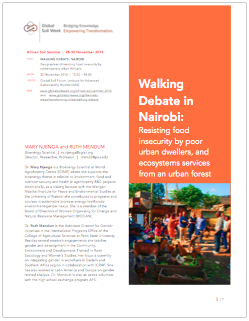 ---
Curators:
Natasha Aruri, Katleen De Flander, Serah Kiragu-Wissler, Celestine Muli
Institute for Advanced Sustainability Studies IASS, Potsdam
Invited guides and discussants:
Kara Devonna Siaahan
Independent Consultant, Disaster Risk Reduction & Climate Change Adaptation, Indonesia
Kuria Gathuru
Coordinator, Mazingira Institute, Kenya
Arthur Getz Escudero
Director, Urban PlanEat, Spain
Njoroge Karanja
Executive Director, Centre for Environmental Action; Chairman at Friends of Karura Forest (Community Forest Association), Kenya
Punam Khosla
Lecturer and PhD Candidate of Critical Urban & Social Thought, Faculty of Environmental Studies, York University, Canada
Elizabeth Kimani Murage
Research Scientist, African Population and Health Research Center (APHRC), Kenya
Anne Kiruri
County Director of Agriculture, Forestry and Natural Resources, Nairobi City County, Kenya
Jack Makau
Country Programme Officer, Muungano wa Wanavijiji, Kenya
Mary Njenga
Bioenergy Scientist, World Agroforestry Centre (ICRAF), Kenya
Samuel Owuor
Senior Lecturer and Chairman, Department of Geography and Environmental Studies, University of Nairobi, Kenya
Invited rapporteurs:
Punam Khosla, Mary Njenga and Ruth Mendum
Further discussants included persons we met on site from community-based collectives and a group of Global Soil Forum (IASS) researchers.
---
Image credits: Natasha Aruri, Keerthi Kiran Bandru and Samie Blasingame